https://deadline.com/2018/06/stranger-things-books-penguin-random-house-fall-debut-1202405836/
EXCLUSIVE: Penguin Random House will partner with Netflix on a worldwide publishing deal for books based on the critically acclaimed Netflix original series Stranger Things, Deadline has learned.
The first two titles, set for a release this fall, will be a behind-the-scences companion book and a hardcover gift book for young readers.
Those two books will be followed next spring by a Stranger Things prequel novel, written by author Gwenda Bond, about Eleven's mother and the MKUltra program. Additional titles for both adults and young readers will arrive later in 2019.
This fall's companion book will be titled Stranger Things: World Turned Upside Down: The Official Behind-The-Scenes Companion. The as-yet-untitled gift book will offer "advice, wisdom, and warnings from the Stranger Things world," says the publisher.
The Stranger Things books will initially release under the U.S. and British Commonwealth publishing teams of Del Rey Books, Random House Children's Books, Cornerstone Publishing, and Penguin Random House Children's UK, with additional territories and imprints to follow.
Audiobook editions will be published by Penguin Random House Audio.
The fall arrival of the first two books might tide over fans of the Duffer Brothers' supernatural Netflix hit until Season 3 arrives, most likely sometime early-ish 2019. All that's known so far about the new season is that Francesca Reale, Cary Elwes and Jake Busey are joining the show, that Reale will play a popular lifeguard at the Hawkins Community Pool who becomes the centerpiece of a dark mystery, and that Elwes will portray Mayor Kline and Busey will be Bruce, a journalist for the The Hawkins Post.

LastSummersSweetheart

Content Team




Posts

: 607


Join date

: 2017-12-22


Location

: The pull-out couch



That's a cool idea!  I was hoping for novels with original content when I read the headline, but I like this too.

hoogie




Posts

: 208


Join date

: 2018-02-26


Age

: 36


Location

: Canada



The prequel showing for pre-order on Penguin Random House
https://www.penguinrandomhouse.com/books/594962/stranger-things-novel-1-by-gwenda-bond/
As is the companion book:
https://www.penguinrandomhouse.com/books/594961/stranger-things-worlds-turned-upside-down-by-gina-mcintyre/
with a pic: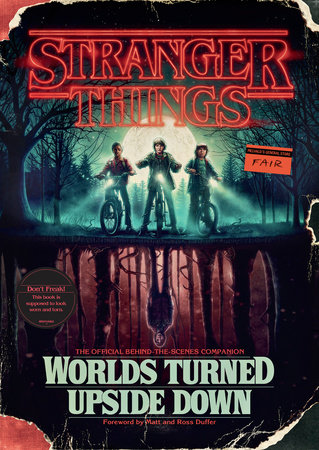 LastSummersSweetheart

Content Team




Posts

: 607


Join date

: 2017-12-22


Location

: The pull-out couch



Kyle Lambert posted a pic on his twitter today: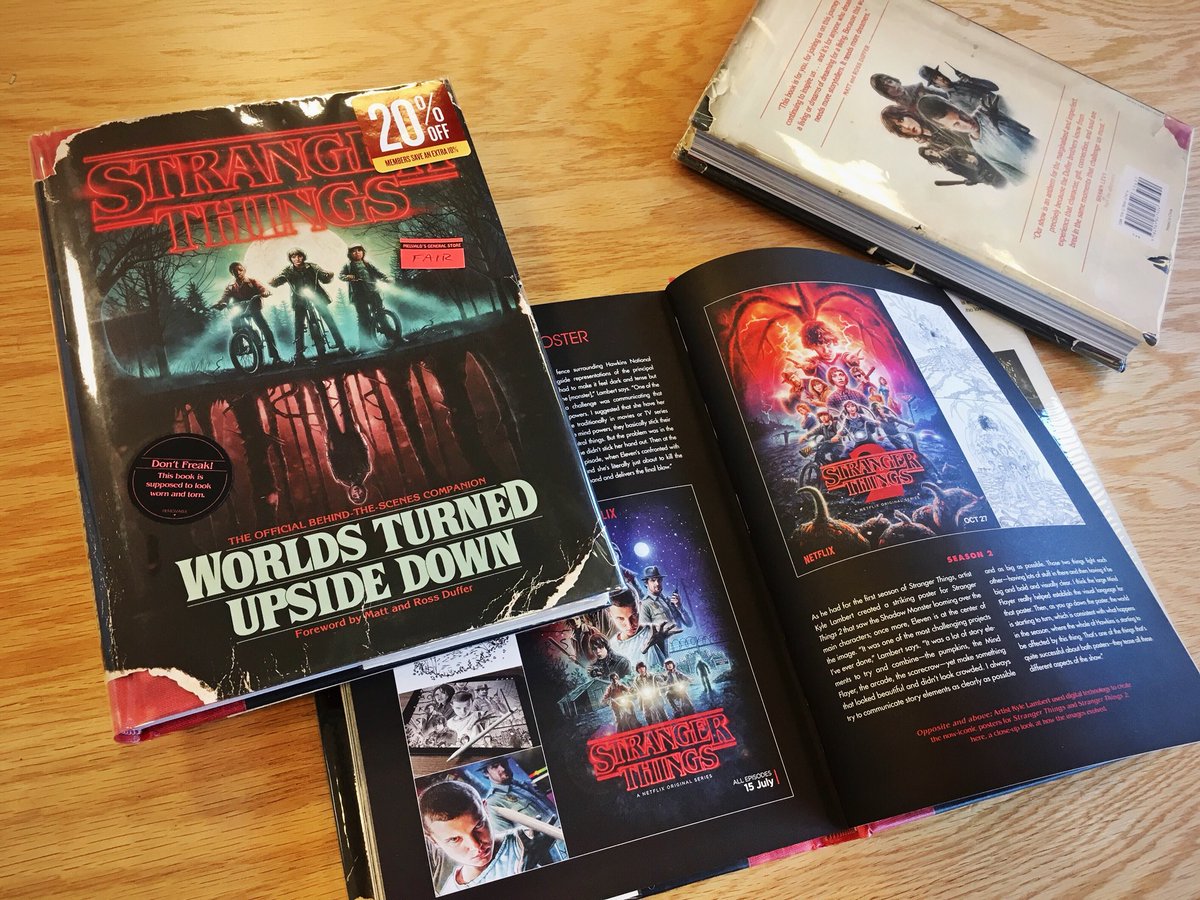 LastSummersSweetheart

Content Team




Posts

: 607


Join date

: 2017-12-22


Location

: The pull-out couch




hoogie




Posts

: 208


Join date

: 2018-02-26


Age

: 36


Location

: Canada




Mike Wheeler

Forum Manager




Posts

: 270


Join date

: 2017-12-20



https://nerdist.com/stranger-things-upside-down-book-morse-code-mystery/
(video in link)
While we're waiting to figure out which terrifying beast from the Monster Manual will threaten Hawkins, Indiana on season three of Netflix's Stranger Things, another mystery is already afoot thanks to a new book. The official behind-the-scenes companion book, Stranger Things: Worlds Turned Upside Down, is available now and it's jam-packed with all manner of fascinating details about the making of the fan-favorite show. It's made to look like a beat-up old tome you'd find in a school library circa the 1980s, but if you look closely there is a cryptic secret message hidden within its 224 pages. So what does this mystery message mean, and what kind of ramifications will it have for Mike, Dustin, Lucas, Eleven, and the gang as we head into season three? Let's dive into it on today's Nerdist News Edition!
As you peruse the book, you will notice lines of Morse code scattered throughout the book. We know this is an intentional inclusion because the book also comes with Eleven's Morse code disk, which will let you decipher the lines of code. But intrepid redditors have already taken it upon themselves to crack the code and analyze what it all means. If you combine all the lines of code in the book, they make up a poem:
The week is long
The silver cat feeds
When blue and yellow meet
In the west
A trip to China sounds nice
If you tread lightly
Sleuthy redditors have already cooked up a few theories about what this word salad ultimately means, speculating about the possibility of a time warp or that the poem needs to be read backwards to make sense. However, the best lead so far comes from the line "When blue and yellow meet." According to redditor Ambiguwus, this line may be a reference to the clock at the Starcourt Mall, which was featured in a season three teaser posted in July.
As you can see, the clock's hands are blue and yellow. The hands of the clock would "meet" four times each day, but does 9PM correspond to the "west" mentioned in the poem? Or does the mall clock face a different direction? Our guess is that the message is giving us some sort of information about what's to come in Stranger Things season three. Hopefully the "silver cat" feeding isn't a reference to Dustin's replacement pet that he found last season. We've already gone deep on what Dungeons & Dragons can tell us about the future of Stranger Things, so perhaps this poem will contain another clue related to everyone's favorite tabletop role-playing game. We'll find out when Stranger Things returns for season three in summer 2019.

LastSummersSweetheart

Content Team




Posts

: 607


Join date

: 2017-12-22


Location

: The pull-out couch




---
Permissions in this forum:
You
cannot
reply to topics in this forum