Discussion page for Caleb McLaughlin, who portrays Lucas Sinclair on the show.  
http://www.imdb.com/name/nm5160895/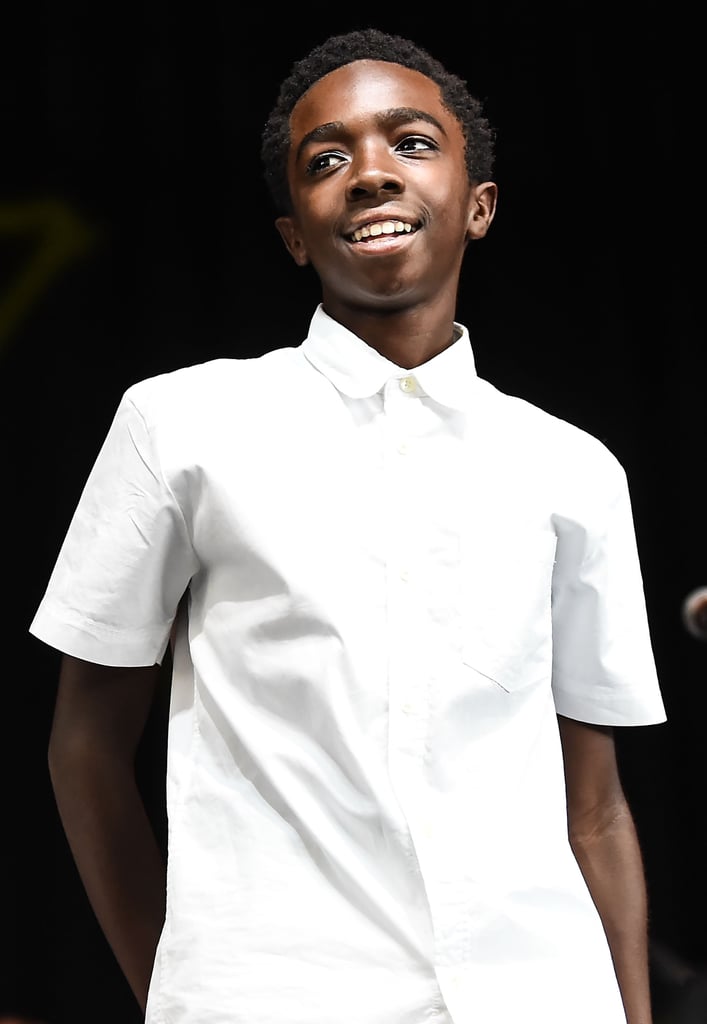 LastSummersSweetheart

Content Team




Posts

: 637


Join date

: 2017-12-22


Location

: The pull-out couch



http://www.mtv.com/news/3065272/justin-bieber-caleb-mclaughlin-nba-celebrity-all-star-game/
It's NBA All-Star Weekend, which means that a bunch of your fave famous people took to the court and tried to dunk with the best of 'em. Michael B. Jordan took a break from Black Panther's opening weekend festivities to lead Team Lakers (with Common leading Team Clippers), and Quavo, Nick Cannon, and more all happily donned jerseys for the 2018 NBA All-Star Celebrity Game on February 16.
But Stranger Things' Caleb McLaughlin may have been the most stoked in the moments leading up to the first throw if his Instagram has anything to say about it — even if that included a good-natured jab from his teammate, Justin Bieber.
McLaughlin and his teammates were all suiting up and stretching in between introductions in the locker room before the game, and he and Bieber talk shop for a second: Bieber asks him if he plays basketball, he nods and responds thst he's been playing for "most of [his] life," and then the pop star says that he didn't recognize him because he plays "more of a dorky kid" on Stranger Things.
McLaughlin laughed it off, and the Lakers then squared off against Quavo and the rest of the Clippers, with the Clippers taking the title — and Quavo taking home the coveted MVP trophy.
Watch highlights from the game below.

LastSummersSweetheart

Content Team




Posts

: 637


Join date

: 2017-12-22


Location

: The pull-out couch



https://www.billboard.com/articles/columns/hip-hop/8212646/caleb-mclaughin-stranger-things-black-history-month-spotify-playlist
[size=33]Caleb McLaughin of 'Stranger Things' Shares 'Black Boy Joy' Playlist for Black History Month Feat. Drake, SZA & More[/size]
t's no secret that the Stranger Things kids love music; most of them are in bands themselves or have killer singing skills. Caleb McLaughlin, who plays Lucas in the hit Netflix series, has decided to take a different route, sharing his favorite songs on Spotify.
For their Black History Month playlist series, Spotify enlisted the teen actor to curate his favorite tracks of the moment. The playlist, titled "Black Boy Joy," features chart-topping tracks like Drake's "God's Plan," SZA's breakout hit "Love Galore" and Childish Gambino's Grammy-nominated track "Redbone."
McLaughlin is just one of the many celebrities making playlists this month, including Mary J. Blige and Winnie Harlow. Check out Caleb's favorite tracks below.

NerdyGirl

Content Team




Posts

: 720


Join date

: 2017-12-21


Age

: 35


Location

: Hawkins



Caleb is at the Kid's Choice Awards too

LastSummersSweetheart

Content Team




Posts

: 637


Join date

: 2017-12-22


Location

: The pull-out couch




LastSummersSweetheart

Content Team




Posts

: 637


Join date

: 2017-12-22


Location

: The pull-out couch




LastSummersSweetheart

Content Team




Posts

: 637


Join date

: 2017-12-22


Location

: The pull-out couch





Similar topics
---
Permissions in this forum:
You
cannot
reply to topics in this forum